Organisational pledge
The Time to Change Wales pledge is a public declaration that an organisation wants to step up to tackle mental health stigma and discrimination.
What is the pledge?
The Time to Change Wales pledge is a public declaration that an organisation wants to step up to tackle mental health stigma and discrimination. It isn't a quality mark, accreditation or endorsement. There is no test or application. You just have to commit to taking actions that are realistic and right for you that will lead to a reduction in discrimination within your organisation and the wider community.
More organisations stepping up to make the organisational pledge means more noise is being made – helping to break the silence around mental health. Imagine if every organisation in Wales made a public pledge to tackle stigma: employers big and small, councils, universities, football clubs, places of worship, charities… that would send a powerful message that mental health is something that can be talked about, and that stigma and discrimination are not welcome.
Who can pledge?
Stigma and discrimination affect people in all areas of life so we need organisations from all sectors of society to step up and play their part. Whether an organisation has already done lots, is just beginning to think about mental health, or has identified that it needs to make improvements, it's never too late to start.
What does pledging mean for an organisation?
Every organisation is different and there are various ways you can put the pledge into action. But all organisations who want to pledge must complete an action plan setting out what they are going to do. Time to Change Wales can help advise you on the action plan but it's the responsibility of the organisation to deliver it. Activities that we encourage organisations to consider are:
Looking at policies and culture to make sure the workplace is supportive of people with mental health problems.
Running internal anti-stigma campaigns using our materials; inviting our educators to deliver anti-stigma training.
Promoting the messages externally to people who use your services and the wider community through your communications channels or by running a campaign.
The action plan should be realistic and manageable but there are no penalties if everything cannot be achieved – so we encourage you to aim high!
"We have found that managers are more aware now that mental ill health should be dealt with in the same way as physical ill health from a sickness absence point of view, through giving support and putting reasonable adjustments in place to aid their return to work."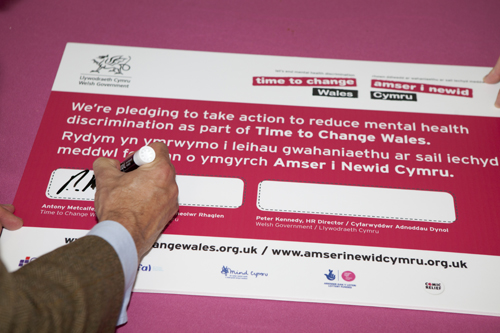 Young People's Organisational Pledge
If you're a youth-focused organisation, or you employ young people, you could also sign our Young People's Organisational Pledge.
The YP pledge shows your commitment to changing how people think about young people's mental health and making sure any young people who might be experiencing mental health problems feel supported.
How to register for the Young People's Organisational Pledge