Back to Blog
Using my anxiety for a marathon challenge
written by Beth Rees 10/01/2017
Mental health problem. A taboo phrase. Ignored by many. Discriminated against by the few. Used as a powerful tool by others. I am one of the others. And I'm harnessing my mental health problem to do some good.
I've had chronic anxiety for most of my life and admittedly, it's affected me in a big way. Losing friends, jobs and a partner were just a few losses. But I've also gained a great deal; closer relationships with friends and family, the ability to talk about my problems, a great job and the love of my life, who takes me as I am. I like to focus on the positives and since losing two people close to us in September, I take this stance more than ever.
My partner's brother and my grandmother died within two weeks of each other. The first person taken away from us was my Karl's brother, Ant. He was 34, living in New York and in the midst of living the dream in the Big Apple. Despite being so far away, he was always on the phone in one way or another to the family and was due to come home for Christmas. He tragically passed away after suffering from heart failure. He was in perfect health and had given himself a major health kick.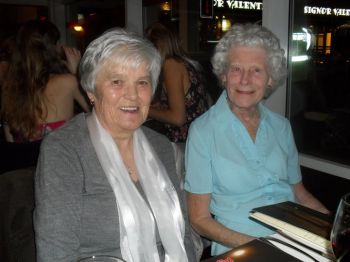 The second was my Grandmother. She died in hospital two weeks after Ant. She was in hospital for a few weeks but, as far as I thought, it wasn't life-threatening. Only a week before, I'd spent every night going in to see her, bringing her sandwiches and trying to solve the problem of the missing false teeth. She became more unwell the day before we left for New York (to sort out Ant's affairs) but I didn't realise the last time I'd see her alive would be right then.
Situations like this make you think about things and reassess. My Grandmother was always so open and understanding about my depression and anxiety. She would always listen to me, comfort me on the bad days and be at the end of the phone if I needed her. She was my world. So, inspired by her and the want of helping other people struggling with their mental health, I decided to become a Time to Change Champion. I met some amazing people on my training who inspired me even more with their stories and what they'd been through. I knew that Nan would be proud of me for going along and being a part of this.
I also decided to take on a big challenge in memory of them both.
When I started running a couple of years ago, I didn't realise the big impact it would have on my life. It's an outlet for me when I feel on edge, a rescue remedy for when I'm feeling down and a release for when I'm so overwhelmed I can't breathe. I've been a part of running clubs and taken part in plenty of great races. The next will be the biggest one yet.
After I took part in races in the past, I'd always go and see my Nan afterwards to see her reaction to me running 13 miles. She's given me so much more determination in my running.
When I told Nan I was going to do it she told me I was 'daft'. However, she always asked me when it was and how my knees were! Before she passed away, my Mum said one of the last things she asked about was when my race was. After I took part in races in the past, I'd always go and see her afterwards to see her reaction to me running 13 miles. She's given me so much more determination in my running.
Ant was getting into his fitness quite a lot and started doing 5k runs to try and beat his times. He managed to do a 5k in 20minutes (which my other half is still trying to beat!). Karl and I talked about possibly going out there to do the New York Half Marathon and getting him to do it with us. This challenge is for Ant because he'll never be able to do one with us.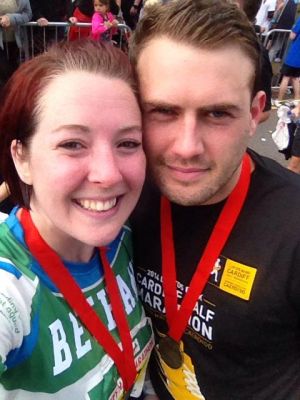 On 23rd April 2017, I'll be taking on the London Marathon. 26.2miles of pure strength and mental determination. Despite not feeling that I'm mentally strong because of my mental health, a physiotherapist told me I must have amazing mental strength because my thighs don't have any strength at all!
She was right. There are some difficult times that I've gotten through that have made me anxious, depressed, angry, paranoid and that have set off panic attacks. But, I made it through them. And I'll make it through this marathon too. I'll do it for Ant and my Nan and use my anxiety to my advantage. I'm worried about doing well but I'll do well no matter how much I worry.
Happy 2017 everyone and it doesn't matter what other people think, get out there and do something awesome for someone special…. Yourself.
Back to Blog