Back to Blog
In Spring 2017 Age Cymru estimated 75,000 people to be 'often or always lonely' in Wales, but it's not just the elderly who face this dark despair of loneliness. Often, due to the stigma surrounding the subject, many of all ages suffer in silence.
One group in particular that is not often thought of is single parents.
We who toil from sunrise to sunset to ensure our small people's every needs are met, only to sit back after the bedtime routine and realise there is no joy or comfort to be found in the silence it brings.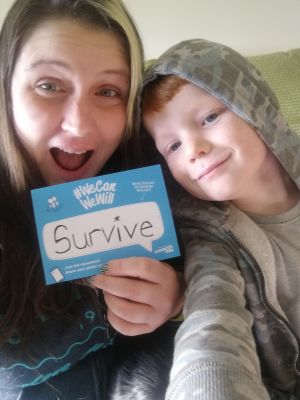 I myself feel too embarrassed to admit when I feel lonely. The awful thought of anybody thinking that I have no friends, when realistically, it's only because I'm not reaching out that my friends don't know, and perhaps if they did, one or more's appearance would remind me that others are out there and that I'm loved and valued. But that would involve having to be brave and outspoken where I'm more afraid of being seen as a nuisance. I think, probably, that the mentioning of wanting to write a blog about single parent loneliness is the first any of my friends will have stopped to consider that I may be lonely. It certainly took a couple of years being alone for me to realise I was.
There are many things to be done around the house after checking under the bed for monsters, tucking into beds, lightly kissing foreheads and turning out the lights. But the willpower to do any of the necessary tasks is rarely found when the discomfort in my gut rises the moment there's no one around for me to keep a smile on my face for.
I'll boil the kettle, and by the time the tea is brewed the walls start closing in. It pulls at my insides, seemingly stretching threads of me out into the world where the people I care about may be and leaving my body behind feeling most empty.
You see, I live very much alone between the hours of 8pm and 7am. There are no voices to answer the questions I ask aloud to the kettle or the fridge. I've always been a social creature but having been single for 5 years I've spent over 1,500 of these evenings completely alone and occassionally the thought of this dawns on me and is a little too overwhelming. Sometimes friends will pop by and I rush to the door desperate not to seem too eager and trip up over myself to offer hot drinks or maybe even dinner? I used to enjoy cooking, but often the kids won't want to eat 'grown up' food and so many packaged ingredients come in portions for two or more. I long for the evenings when I can stuff people full of scrumptiousness and relive the joy culinary happenings used to bring.
"Often days and days go by when the only adults I speak to are parents and teachers at the school gates."
Frankly, this just simply isn't how I ever imagined my life was going to be. Spending so much time alone, scrambling desperately to fill the void so I won't notice there's no one there. No one there to take over chores if I run myself into the ground, to take care of us all if I get ill, to share the chores, the tears, the laughter or to warm the other side of the bed. Often days and days go by when the only adults I speak to are parents and teachers at the school gates, once I even went for 8-9 weeks with these and the odd checkout person being the only over 10's I communicated with.
Work is a blessing, I'm lucky enough to currently work two evenings at the local youth centre where I started volunteering in May. I found a devoted childminder, who puts the children to bed these two evenings. When I started I was completely elated to be out the house after bedtime, it was such an extraordinary opportunity, one which I still value immensely. It is a gift that has returned to me much of my confidence and identity as someone other than 'mum'.
Things are still a struggle often though, Christmas in particular is always a hard blow - that it's only me on a mission to keep the magic alive, but the children are still enchanted by it all and their wonder just about carries me through, at least until its bed time again and the commercial ideals of family gatherings, laughter and merriment make our world seem ever so small all over again.
All in all there's a very fine line between being lonely and simply being alone, and for me the difference lies in books. Adventures to imagine myself lost in, such passion for characters they feel like friends and quests so intense they keep me turning pages until the early hours of the morning, where the alarm draws close and I'm once again reunited with my two favourite smiles for another day full of joy and giggles. But no matter how full of excitement and adventure it may be; night time always follows.
Back to Blog