Back to Blog
Time to Change Wales Champions are people with lived experience of mental health problems who campaign to end mental health discrimination in their communities. The Champions network is an opportunity to meet like minded people and campaign together to change attitudes and behaviour.

One of our Individuals has recently joined them and has started training to become a Champion so we asked her a few questions about the whole experience.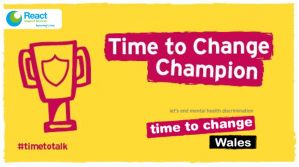 What did you learn?
"I learned a lot about the stigma and discrimination, which I didn't know much about before I went to the training sessions. I always thought I was discriminated personally, not because of my mental health issues so this has made me understand it all"
How did you find the TTC team?
"I really liked the staff, they made me feel confident and they didn't put any pressure on me to speak out to everyone, they let me speak where I was sitting instead of standing up in front of everyone. The second session I went to, there were a lot more people but I still spoke to them all about mental health and my story. I was not judged at all due to everyone else taking about their story."

Was there anything you didn't like about the experience?
"I wouldn't change anything, it was perfect"

How did you find the sessions?
"At first I was scared, but as time passed a felt better, I felt more comfortable and it was motivating seeing all the different people talking about their stories."
If there is someone who wanted to become a champion, but wasn't 100% sure. What would you say to them?
"It's worth going because it might help you. It gives you new experiences, I feel that it is starting to change my life. I'm really glad I did it.

What is the next step in your journey as a Champion?
"I will be attending exhibitions and events with Time To Change, giving out information like flyers and then I will be shadowing an experienced champion when giving talks to people so that I can eventually do it on my own. I am just waiting on my DBS to be confirmed."
 
We wish you all the best and support you entirely in this campaign, from all at React Support Services!
Back to Blog