Back to Blog
Getting Wales Talking on the 4th February
written by Antony Metcalfe 20/01/2016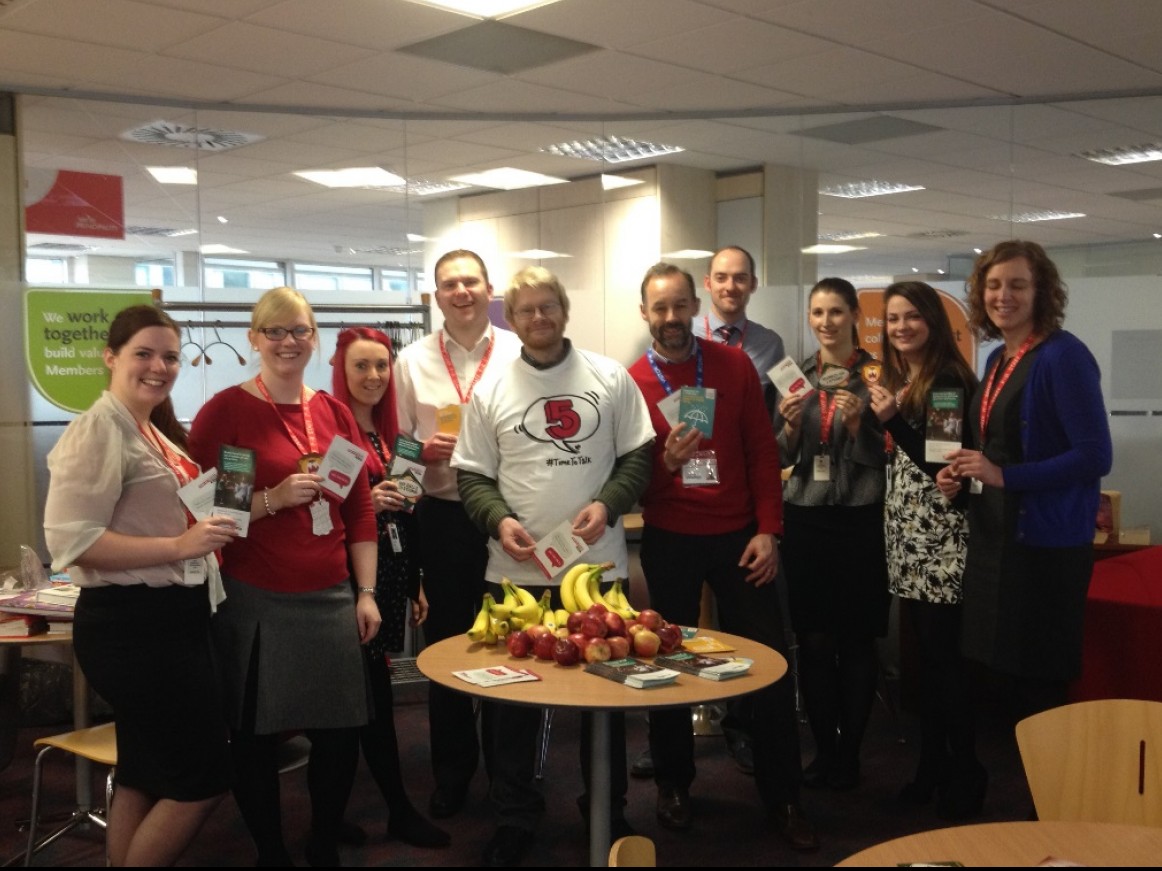 Ant Metcalfe (5th from right) visiting organisations on Time To Talk Day 2015
Thursday 4th February 2016 is Time to Talk Day, and as a campaign we're asking Wales to take 5 minutes to have a conversation about mental health.
Having a mental health problem is hard enough, but sometimes the isolation and stigma can make it even worse.  But we can all help to break the silence. Talking about mental health doesn't need to be difficult and can make a big difference. That's why we're asking you to take just 5 minutes to have a conversation about mental health.
There are lots of ways you can make your 5 minutes count, whether it be at work, at school, online, in the community or with friends and family. We have lots of suggestions and materials to support what you're doing.  We're encouraging people to use our event page to log what they are doing for Time to Talk Day and the conversations they are having. 
"There are lots of ways you can make your 5 minutes count, whether it be at work, at school, online, in the community or with friends and family."
While some of these conversations will take place in homes, with family and friends we are particularly targeting conversations within the workplace.  Right now 1 in 6 workers are dealing with anxiety, depression or stress and across the UK mental health problems cost the UK economy £26 billion a year with the impact in Wales being £7.2billion.  Yet for many they experience these symptoms in silence for the fear of stigma and discrimination from their work colleagues, stigma leads to silence around the issues, which leads to lack of knowledge, leads to fear of the conversations, leads to increase perceptions of stigma, which leads to individuals being cautious to reveal the problem which leads to silence around the issue and thus the negative cycle continues. As a nation we must break this cycle and take the important steps to address the silence.         
This is the second time that we have run Time to Talk day and the feedback and engagement in 2015 was very positive, Esther James (Equality & Diversity Officer at Rhonda Cynon Taff Borough Council) said:
'This time last year we decided to hold an informal 'Time To Talk' event, to mark the first ever National 'Time To Talk' day as we felt this would be a great way to engage with our staff on mental health in a relaxed setting. The event was an outstanding success, and the conversations we had with fellow employees, really opened our eyes to the importance of talking about Mental Health in the workplace, and the barriers this can break down.
We couldn't let the success end there, so we started a programme of regular 'Time To Talk' day events across a variety of Council locations, including offices and depots. These events have allowed us to initiate hundreds of conversations with staff about Mental Health, by asking people to take 2 minutes out of their day to talk about it.
They have been really well received by staff, and have highlighted areas of good practice, and areas where we need to concentrate our resources, such as providing more training for our managers. The initiative has been fully supported by our Senior Management Team, and it's pleasing to see that there is recognition of the benefits of talking about mental health for both employees and the organisation'.
While James Harper, Time to Change Wales campaign lead for Principality Building Society, said:
"As a Time to Change Wales pledge organisation we are very proud to be supporting Time To Talk Day 2016. The day is all about getting people talking about mental health and we know through experience that having a conversation can make such a big difference; including making people feel less isolated, providing support, and significantly increasing awareness levels amongst all staff.
"Time To Talk Day last year involved almost 100 of our staff having conversations about mental health with their colleagues, friends or family members. It provided a significant focus for us and created lots of momentum around building our understanding of mental health and our capabilities in helping each other. In 2016 we will again be encouraging staff to have that conversation on the day and beyond."
It's the little things that make a difference and reaching out, having a cuppa, sending someone a text or asking them how they really feel will make a huge difference, our activity on the 4th February and the spark that this will create all helps to dispel the myths and stereotypes that surround mental health, you don`t need to be extraordinary, just be a friend and a work colleague.          
Back to Blog