Back to Blog
Become a North Wales Champion!
written by Ceinwen Owen 27/04/2016
Ceinwen Owen is our Training and Development Coordinator for North Wales and she talks about the important work of our Time to Change Wales Champions who are the lifeblood of our campaign, and details of how you can get involved yourself.
As the Training and Development Coordinator for North Wales I have been present at numerous events and talks.  The effect that these talks have on audiences and individuals is remarkable and is reflected in the comments on feedback forms.
After being made redundant in 2013 I saw this post advertised and decided to apply for it as I wanted to be part of a movement to end the stigma and discrimination that surrounds mental ill health.  On a personal level I have suffered 'bouts of anxiety' all of my adult life so I can fully understand the damaging affect stigma and discrimination can have on an individual's recovery.
Champion training takes place over two days, split up as 'Time to Talk' and 'Time to Tell' sessions, usually a couple of weeks apart. Both training days are very informal and can be a great way to meet and talk to new people in a relaxed setting.
On the first day of training there is an overview of what the campaign is all about, discuss the different roles for Champions, get tips on talking about mental health, think about how mental health discrimination affects us and others and learn about responding to questions.
The second day of training gives advice and support on constructing your story, thinking about discrimination, public speaking, confidence building and handling nerves.
Once trained, Champions are able to staff stalls, write blogs, help out at events and deliver talks about the aims of the campaign and their own experience of mental health to name a few. For example, in the images are our champions Andy Royles, who has been with the campaign for three years, and Char Sharpe, one of our youngest champions. We were invited to deliver a talk to third year Health & Social Care students in Denbighshire, who really appreciated the value of having our Champions with lived experience of mental health, speak to them, and both Andy and Char recognised the impact they have and the importance of their work.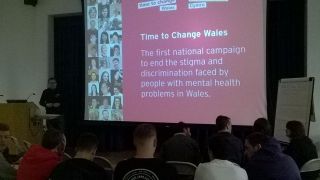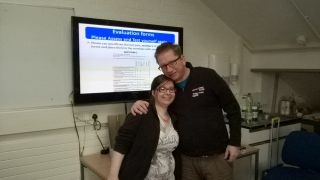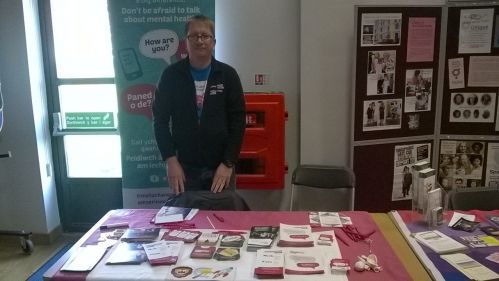 The next training date for North Wales is on the 4th May at 10.00am. Future training dates are available below, and all these are taking place in Hafal's office on Rhiw Road in Colwyn Bay 10.00am-3.00pm. If anyone would like to meet Ceinwen for a chat first to see what is involved and get a bit more information on the programme then you can email c.owen@timetochangewales.org.uk or call 07891821069.
Future Training Dates:
4th May (Time to Talk)
11th May (Time to Tell)
25th May (Time to Talk)
15th June (Time to Talk)
29th June (Time to Tell)
Back to Blog