About us
Time to Change Wales is the first national campaign to end the stigma and discrimination faced by people with mental health problems.  
"This campaign will create a generation of people who don't have to face stigma and discrimination, and can talk about mental health openly without fear."
The campaign is needed because although mental health problems are very common, it can still be a taboo subject. People who experience mental illness often face stigma and discrimination in the workplace, socially and within families. This can make life with a mental health problem more difficult than the symptoms themselves.
We want to improve knowledge and understanding about mental illness and, most importantly of all, get people talking about mental health.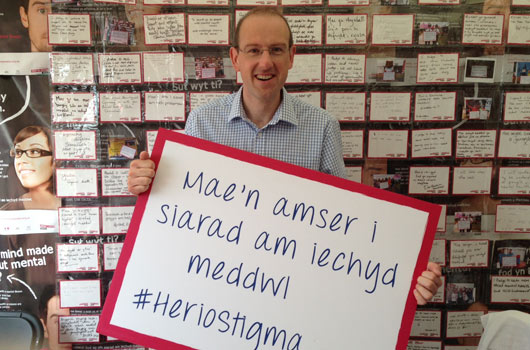 "If mental health were a physical illness, people would send get well cards, they would call round with flowers and provide empathy in bucket loads. Instead with MH, you are lucky if someone asks if you're ok before quickly changing the subject."
Research and Insight
Champions and people with lived experience are at the heart of the Time to Change Wales programme. Our evidence has shown that by sharing lived experiences and life stories by those who suffer or have suffered mental health problems leads to transformational change in attitude and a reduction in stigma and discrimination amongst those with whom the story is shared.
We have commissioned and consulted extensive global research in the area of stigma and discrimination and we continue to use our latest insights and programme evaluation to inform the direction of our work in Wales.