Back to Blog
What Reaching Out Means to Me
written by Lisa Stokes 16/09/2016
When I was around 16 weeks pregnant with our second baby I started to feel teary. I would need to run out of the room to the toilets and I would just cry.  My mind would go blank and forget what I was doing. 
I couldn't admit to it and thought it was hormones so struggled on, putting on a brave face.  Luckily for me, my boss spoke to me and helped me admit that I wasn't well and it wasn't normal, so she encouraged me to go straight to the doctors.  I was diagnosed with pre-natal depression, which I hadn't even heard of.  I worked a bit longer but it got to the point, within a few weeks, where I had anxiety and I couldn't leave the house without having a panic attack.  I didn't reply to anyone's texts, couldn't answer the phone.  But that didn't stop anyone texting just to let me know they were thinking of me, as they knew it might make me smile.
I'd never felt anything like it before.  My midwife referred me to a mental health midwife who was amazing support.  She visited me at home, met my wife Liz and gave guidance to her and my family in ways to support me.  I initially decided against medication as I didn't want to harm my baby, I was scared what people would think of me, and would they think I might harm my baby?  However, my friends and family reassured me that my baby would be happy if I was happy.  I took a low dose and also had home visits for CBT (cognitive behavioural therapy).  This helped me and by the time my baby was born I was much better.
Then my baby girl Olivia was born.  It sounds unreal but the cloud lifted and I felt amazing again, I vividly remember feeling 'clear' in the hospital and for weeks afterwards, like I was back again.…until she was about 6 weeks old.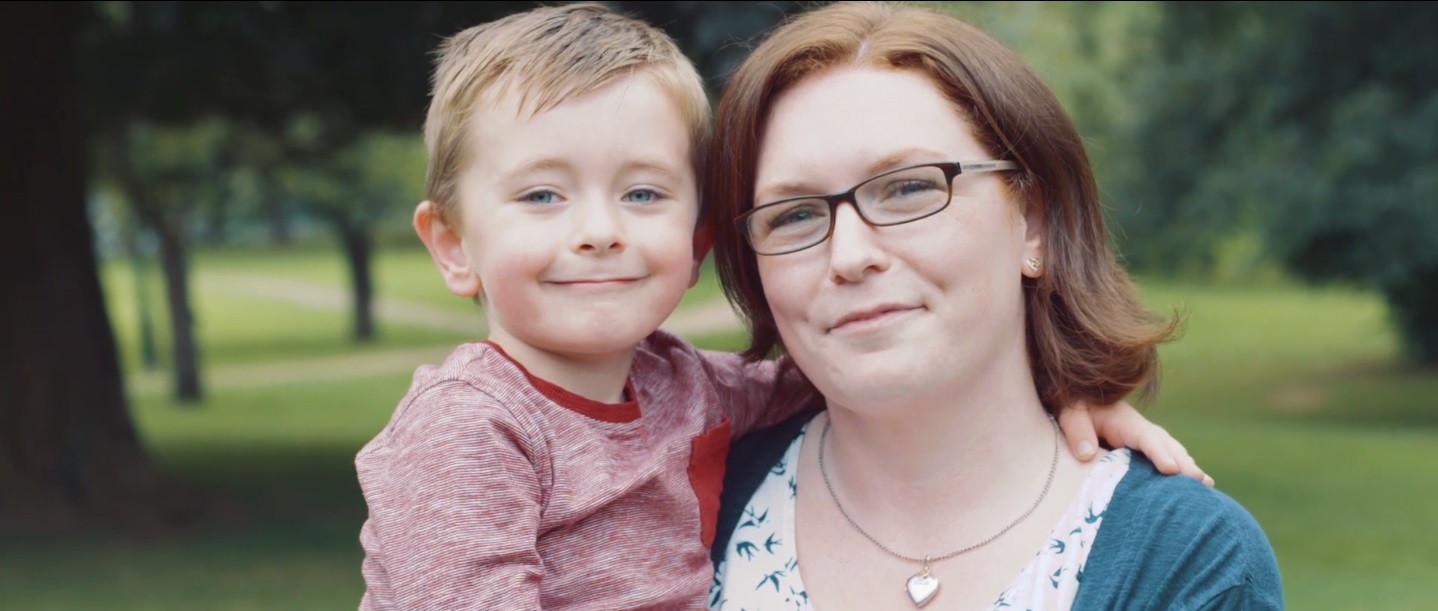 Lisa and her son as featured in her #ReachOut story.
Now as I had feared, I had postnatal depression.  I didn't have social anxiety like before, but I had no control over my thoughts, they weren't nice or logical, they were cruel and incredibly scary.  I only thought bad thoughts about myself, not my baby or anyone else.  I was still more than capable of looking after her, I breastfed her and loved being a Mummy to my baby girl now as well as my 3 year old boy Jake.  On the other hand, when I was alone my thoughts wanted me to harm myself – not just in the usual way you might think, I would starve myself and binge eat, then self-criticise because my thoughts told me I was 'fat'.  I felt lonely even though I was far from it, my thoughts told me I was alone and eventually I was suffering very vivid suicidal thoughts and visions, almost like hallucinations. 
The suicidal thoughts were 24/7 and before I knew it I had no doubts, I knew I couldn't stand feeling this way anymore, I hated the horrible thoughts in my head and didn't know what to do.  Luckily, a switched turned on in my head, a cloud lifted briefly and I suddenly panicked.  All those times Liz had been there for me, all the small things friends and family had done for me had given me an inner strength that was stronger than the depression.  I subconsciously called Liz in a state of panic.  The rest was a blur and I'm still not comfortable talking about it. 
"Colleagues would just ask how I was, tell me it was good to see me, how well I looked, make sure I had lunch every day, got away from my desk, send me home if I looked like I had had enough."
I was put on a high dose on anti-depressants which I am still on, they work.  They keep my mood lifted so I can live a normal life.  Liz had called a Mind counsellor when I was in hospital and the next day I was seen.  I remember her telling me I had a PhD in negative thoughts about myself.  The things she taught me in just a few sessions saved me.  One example is to think of 3 positives about myself every night before bed, so my dreams became nicer.  Most importantly she talked about me, my life, history, my relationships, everything.  Previously all I had done was to put plasters on my symptoms but hadn't dealt with the real root causes. 
Liz made me an emergency box, and every day put different notes or chocolate or photos in it, so I could look at it when I needed a reason to smile.  I still carry it with me every day.
Work referred me to see Occupational doctor who put in a structured phased return plan. I was so nervous returning as everyone would have known I was off with depression.  My boss and my team were incredible.  Everyone in work was.  Only my boss knew the real reason why I had been off.  No one else needed to know that.  Colleagues would just ask how I was, tell me it was good to see me, how well I looked, make sure I had lunch every day, got away from my desk, send me home if I looked like I had had enough.  I was 'kind to myself', knew my limits, was honest to my family and friends when they asked how I was – I'd say "struggling today", "feeling a bit low today" or "I'm having a good day thanks".  No one needed any more information than that, but it just removed all ambiguity and it removed the elephant from the room. 
I'm learning every day, have read lots and its helping me to accept that this is an illness I shouldn't be ashamed of.  It's helped me to realise for myself that I am strong and brave.   
My bond with Olivia and Jake has never faltered, and I still look at them and know that, everything I have been through was worth it to have them in my life.
You can watch Lisa's #ReachOut story at www.reachout.wales.
Back to Blog