Back to Blog
As a very proud Welsh woman, and a Christian with liberal Celtic leanings, St David's commandment "Gwnewch y pethau bychain" (Do the small things) has an important place in my heart alongside the Welsh proverb "Dyfal donc a dyr y garreg" (Many blows break the stone).  I know that combined together they can bring huge results.  Time to Change Wales' 'State of Stigma' report is evidence of this.
As Champions and Activists the actions we ask people to take are really small things, making a phone call, having a chat, asking how someone is, and telling our own stories.  Over the past 5 years those little things have added up to a huge difference in the attitude of people in Wales towards Mental Health.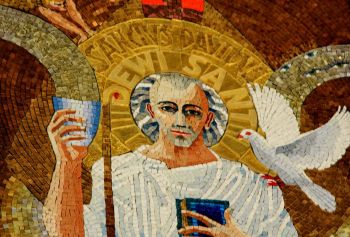 The little thing that has made the biggest difference for me, personally, has been trying to follow the command 'Love thy neighbour as thyself'. Self loathing and stigmatisation blighted my life for a long time. But, I've started to give myself the breaks I give to others. It takes real effort, but over time I've begun to become quite fond of myself, and to look after myself better. Self care seems like a small and unimportant thing, but unless you take care of yourself you won't be fit to look after anyone else.  
So, carry on doing the small, kind things, and continue to bash the stone of stigma. Gradually it will add up to something enormous and will change the world forever! 
Back to Blog