Back to Blog
Small things make a huge difference
written by Sarah Hayes 20/09/2016
My journey with mental illness started when I was 24. I was a newly qualified nurse and was happy, confident and after many traumatic experiences as I was growing up I was extremely strong and well balanced. There was no family or personal history of mental illness. I became suddenly and severely mentally unwell six days after the birth of my son.
After my son was born I was elated and could not switch off. I was over the moon and my mind was racing. I started to do things which were out of character such as writing poems in the middle of the night as I could not sleep.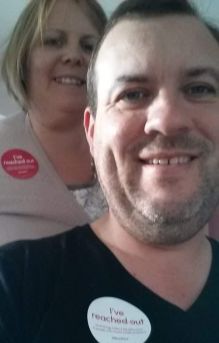 My symptoms escalated after six days of no sleep. I started hallucinating. I saw myself on the telly and believed it was real. I lost touch with reality and had scary delusions which I thought were real. I could not work out what was real and not real. I could not work out if I was dead or alive.
Luckily a community midwife picked up the signs of Postpartum Psychosis, a severe mental illness following childbirth. Postpartum Psychosis is a psychiatric emergency. If it is not picked up women are at risk of taking their own lives and sometimes their baby's life due to the dangerous delusions. Everyone should know the signs of PP as it is treatable and lives can be saved. Please see www.app-network.org
Specialist care is needed in a Mother & Baby Unit. There were no available beds in the MBU and I was admitted to a general psychiatric ward, sectioned and separated from my six day old baby.
Sarah supporting the #ReachOut campaign this month!
Recovery from PP was very gradual. When I was terrified and seriously unwell I kept chanting to myself "happy ending". I somehow clung on to hope and believed that one day I would be well. My mum is a very positive person and she gave me hope that I would recover.
I very gradually improved and tried to do too much such as move house, got married and tried to go back to work too soon.
I was not well enough to be back in work and became very depressed as I could not work and felt I had let everyone down. I started taking anti-depressant medication which kept being increased as I was so depressed I could not function. I then went from being severely depressed to the opposite extreme. I had a severe manic episode and was dangerously high. No-one knew what I was going to do next. I thought I could conquer the world, I did not sleep and talked non-stop due to my racing mind.
"The mental anguish was unimaginable."
For a year I struggled with severe destructive highs and lows which damaged my life and the lives of those around me. It put a huge strain on my marriage which consequently ended.
I was eventually diagnosed with bipolar disorder and started on Lithium medication. I stabilised within weeks. I worked as a nurse, brought up my son on my own and got my life back.
I am lucky to have fantastic friends and family. Two friends in particular have carried out acts of kindness which have made a huge difference in my recovery. One friend regularly asks how I am and when I have felt low she encourages me to go for walks with her. There have been times when I have shown signs of relapse such as poor sleep and huge amounts of stress. She talks to my family and they all help me to take some pressure off me. By talking to her I feel my problems are not as bad as they seem.
My husband is a huge support, he encourages me to talk about how I am feeling and is very supportive. Another close friend has taught me about the importance of self-care. When I was struggling with overwhelming work stress I received a lovely pamper parcel from her with lots of lovely things such as bubble bath, cucumber eye pads and an adult colouring book which really helped me to de-stress!
This made me feel so much better. Knowing someone who completely understands is a real blessing.
I got married two years ago; my son is in his final year in university and is happy and loving life. After 21 years of determination and hope I feel I have the happy ending I was chanting about when I wondered if I would ever recover.
Never give up hope. I can't thank everyone around me enough for their kindness and I appreciate the small things so much. Talking about mental health and trying to understand is a small act of kindness which can make such a positive difference.
For ideas of how to reach out to someone you know, visit www.reachout.wales.
Back to Blog