Back to Blog
Schizophrenic: a review
written by Fi 05/11/2013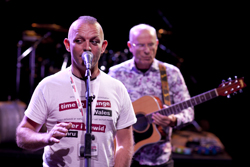 I didn't know what to expect when I arrived at Llanelli's ' Y FFwrnes' with Melanie.  A night of music was what was promised, but what was delivered was a smorgasbord of an eclectic mix of styles, which grew in intensity until it concluded with the wonderfully named group 'Fasta Benj.'
"I could understand how he could be part of the driving force to raise awareness of mental health discrimination through the medium of music."
Upon arriving to set up with Time to Change Wales, I was introduced to the charismatic and vibrant Dai Sharkey (guy liner always helps!), and I could understand how he could be part of the driving force to raise awareness of mental health discrimination through the medium of music.  As we displayed the Time to Change information, the talent began to arrive and the intimate, cafe style auditorium began to take on an intense vibe, as sound and lighting checks were made.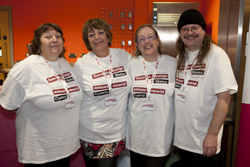 Heather and Miranda gently delivered powerful lyrics, based on hope and recovery, 'Life is more than this, life can be bliss.' with full honesty about the dark place which one has to fight back from.  Heartfelt emotions shone through, with personal insight into the highs and lows of bi-polar.  Delivering a message of understanding, as those with mental stresses can still have something to give, being 'creative in a unique way, as they see things differently.'
Next, with her band was Scotty, her sense of humour sneaking out, in lyrics such as, 'climb back into my mother's womb, but I'm 5'8" and she ain't got room.' I have to admit that her song  'Last Night'  (I was so dissatisfied with my uninspiring life,  I fell asleep at the wheel) moved me to tears, as I identified with the whole feeling of wanting it to be over,  'I knew that I would never return to the world, I felt a weight lift from me... I am free of the world' Listening to it again at home I admit that it has the same effect! Must be something to do with the acoustic guitar! Then by the end song 'Bus of Love' I was giggling again as she had the audience joining in with the words of the chorus!
The unexpected treat of Roger Henderson took me off the emotional roller coaster, as he had us all laughing with his take on Kings of Leon, 'Your sex is on fire,' changed effortlessly to 'My toast is on fire!'  Then we, (I am certain that I was not the only one,) started singing along to his spectacular renditions of 'Teenage Dirtbag' and 'Pinball Wizard' His great performance was made even more wonderful when I found out that he was fighting back from a stroke.
Dai (with no performers ego) shortened his set as time was running out and wanted to give the band Fasta Benji as much time as possible; although he did admit that he was looking forward to seeing them too.  He gave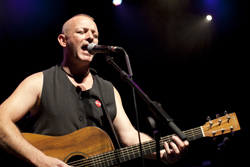 a brief talk about 'Time to Change Wales' and how it was important to end the stigma attached to Mental Health, before introducing his first song 'Baby,' a melodic rap that didn't spit the lyrics.  At this point the cider went through me, so a quick trip to the toilet was required!  However I caught the rest of the set including the title song of his new album 'Schizophrenic,' a jolly, bouncy ditty that bravely stated that (as with all forms of Mental Health) Schizophrenia needs understanding, that is different and not wrong and the benefit is that they can see what others cannot see.  I feel that when the mind has been broken in anyway, pulling yourself out the other side means that you do indeed see things in a different way.  Changing the genre with his next song 'Sunshine' the Jazz tones perfectly matched the subject matter of nature being a gift for all; it is something for nothing, and whatever happens 'It doesn't matter, 'cos I've got sunshine in my heart.'  Then it was time for the band.
Where to start with the firecracker that is Fasta Benj, a five piece band that kidnapped our interest with an attention grabbing jig.  If gypsy dancers had come twirling in, complete with caravan and camp fire I would not have been surprised.  Vastly talented, each member could play at least two instruments (although not both at once!), and they had not finished one song before they had whirled into the next.  Led by a fabulous guitarist; resplendent in red with funky boots, their lively enthusiasm romped around the audience, scooping us up in a unique energy that I have never encountered before. Much of their set was based on tunes but there were some songs too, but however much they played it would not be enough, as I just loved the way it raised my spirits and my smile.
You can catch Dai Sharkey on the Making Minds stage at Cardiff Mind Fest on Sunday 24 November.
Back to Blog