Back to Blog
Reflection - 100 Champion Talks
written by Bev Jones 21/06/2016
June 2009 saw an event that would change my life forever. Following a thirty year senior manager career I crashed out with corporate burnout when I was diagnosed with clinical depression and severe anxiety.
Looking back now I realise life had just got too busy, this had resulted in 'mind overload'.
As I walked out of the doctors' surgery one sunny Friday afternoon an overwhelming sense of failure joined me.
What followed was a dark journey of negativity and shadows; nights rolled into days and days rolled into nights as I cried away the hours under my duvet. I was prescribed anti-depressants and spent many hours in counselling. My life went from bad to worse as I had to move out of my home, I lost my job and I became single, all happening on top of my diagnosis. I felt utterly useless, I considered ending it and caused myself more pain through self-harm; until I made a decision to change my life for the better.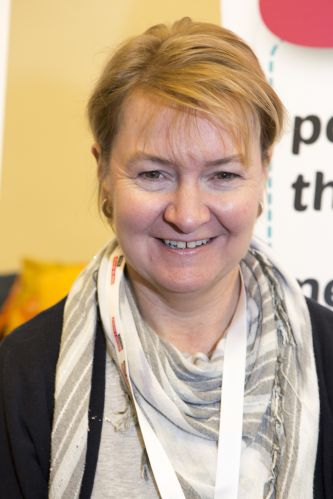 It was over the Christmas period 2009 that I took up reading self-help books, spent time with family and close friends and day by day as I walked each baby step forward my life improved and the sun started to peep through the clouds.
2010 saw me re-train as a coach so that I could help others on their journey and it was in 2012 I became a published author and a Champion for Time to Change Wales.
Joining Time to Change Wales as a Champion in 2012 was a huge turning point as through their care and support I regained my confidence, this had been one of the things to go as I travelled through the dark days of depression.
Every day I spoke out as a Champion gave me more courage, it showed me that my story and the work that Time to Change Wales do helps people to understand and speak out not only about their own mental health but the mental health of others too. Over the years I have grown to understand so much more about so many mental illnesses, I have met and chatted with champions whose heart wrenching stories often bring tears to my eyes and equally of those in the audience.
As part of the Champion group I feel we break down barriers, open people's eyes and in turn start to 'normalise' many mental illnesses. We give people permission to speak out and in turn to be heard when they ask for help.
I am so proud to be carrying out this work and this month sees me celebrate my 100th talk for the campaign.  Through the 99 previous talks I have shared my story and the Time to Change Wales Presentation with 1,601 audience attendees from varying backgrounds and organisations, all of whom have been supportive of the message delivered.
These are some of the comments I received from a recent talk:
 'An excellent session, pleased to know I am not the only one'
'I am now more aware of stigma and discrimination, I didn't realise it was quite so bad, great talk, struck many chords with me'
'I am open-minded and try not to judge, however I will work harder at this'
'Has made me more comfortable talking to someone with a mental health illness'
'The session was frank, honest and warm making me think deeply about the issues and how they manifest themselves in the workplace and in workplace teams'
It is this feedback that adds to how proud I am to volunteer as a Champion for Time to Change Wales.
So if you are struggling, don't do it alone, speak up as I can guarantee communication is indeed the best medication.
If you would like to join me for my 100th talk then please accept my open invitation to the free event which is being held at The Beaufort Arms Hotel High Street Raglan, this Thursday 23rd June. The doors open at 7pm for a 7.30 start.
Remember it is Time to Talk it is Time to Change Wales!
Back to Blog