Back to Blog
"Reaching out for me has been a passion"
written by Andy Royles 17/09/2016
Hi, my name is Andy Royles. I am 45, and have been suffering with mental health problems for years and was only diagnosed after a 4 month stay at a psychiatric hospital. I have bipolar type 1, which means my moods can fluctuate from high to low at any given time. I joined the Time to Change Wales campaign over 4 years ago and have delivered over 100 presentations to anything from 4-5 people to 70+, scary stuff!
The main effect my mental health problem has had on my life is fear, fear that I won't be accepted, fear that people judge me and fear that I might have a manic episode that lasts for days.
Imagine if you will the thrill of buying a new pair of shoes or that feeling of passing your driving exam, even the birth of your child. Now multiply that feeling and imagine not being able to come back down. Then imagine the lowest you have been, such as losing a precious family member or pet and multiply that feeling and not know when you will be normal again. That's what my life has been like, but by volunteering I have grown in strength.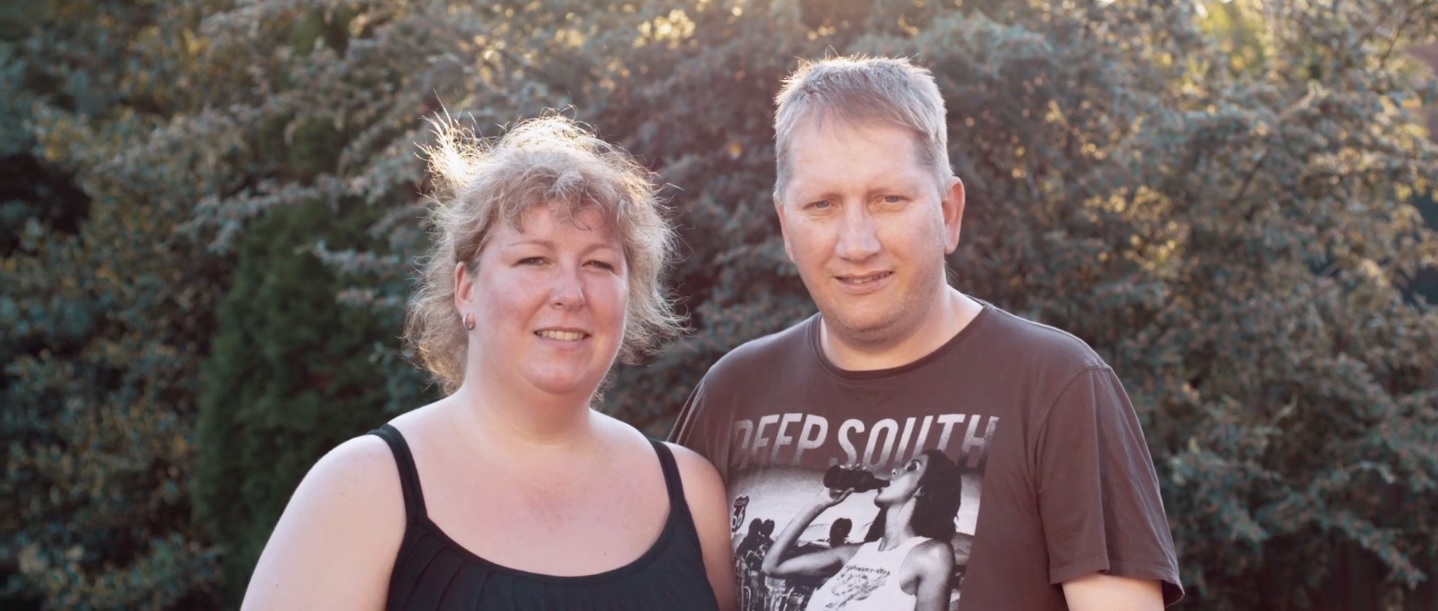 Andy with his wife as featured in his #ReachOut story.
I have been volunteering for the last 9 years in one way or the other. I have gained qualifications in counselling all because I want to reach out and change bad life events and experiences into positive progression.
Reaching out for me has been a passion, something I enjoy and without blowing my own trumpet I think I do very well. By the time this blog gets aired I will have stopped 1 of my volunteering roles and started doing full time work that allows me to help to reach out and change someone's life.
My family and friends have reached out to me and supported me when I have needed support and guidance. My wife is absolutely fabulous and understands my illness and provides me with the love and compassion I need to survive a major episode. My friend Paul has been a massive part of my recovery too and has helped me to deal with the guilt and fear that my past life experiences have held me back.
"You don't have to have a qualification to reach out."
Now I reach out to people on a daily basis and it makes me feel proud of myself. I have come a long way since I was sectioned under the Mental Health Act and I know how important reaching out can be.
You don't have to have a qualification to reach out. If you know someone who finds life hard don't be afraid to reach out to them and help change their lives forever. I have learnt how to value who I am and you could do that for someone today, we all need a helping hand every now and then. Providing someone with a lifeline doesn't have to cost you anything other than your time and energy. We all have mental health it's when it becomes a problem that we need that support.
You can watch Andy's #ReachOut story at www.reachout.wales.
Back to Blog