Back to Blog
Post Traumatic Stress Disorder and light at the end of the tunnel
written by Kelly Boylin 13/06/2013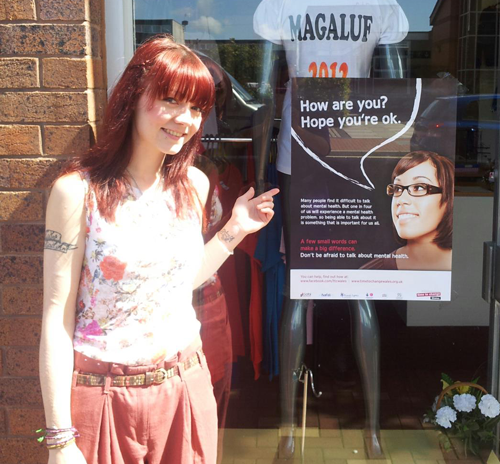 I carried on having extreme flashbacks that just felt so real,
From the age of 14 PTSD ruled my every day life.
As a child from a young age I suffered a number of traumatic incidents and would have recurring flashbacks. I would see faces on the street I was sure were from those incidents, and it reached the point where I was placed into a children's mental health unit in north Wales at the age of 15.
I couldn't go out alone as I was too scared I would see the faces. I couldn't sleep in a bed at night due to the severe nightmares, I just slept on a chair instead. I was doing anything I could to not have to relive what happened to me, yet my brain was battling against my heart and wanting to try to piece together what happened.
That's how PTSD works I guess, it is your brain's way of trying to fix the puzzle of what happened, of trying to process the event that's led you to suffering from PTSD. It feels a cruel way, for your brain to be battling against you, and it is. PTSD can damage so many people from so many difficult walks of life, from veterans, soldiers, widows, bereaved, assault, rape. Common symptoms of PTSD can range from flashbacks, anxiety, vivid nightmares, depression, and anyone can suffer from it.
I ended up spending a year of my childhood in that mental health unit wondering, "Would I ever get out?" "Would I ever be free from my mind?" and eventually I was discharged and went back to live with my foster family. I thought I had worked through my difficulties in that year and was overcoming them, but sadly I carried on having extreme flashbacks that just felt so real, like I was in that time being hurt all over again. I think that's one thing people find so hard to understand that for the people suffering this, it can be like that event is constantly on repeat, the days are all that one day, all the same and all so real.
At the age of 17 I was living in a homeless hostel in north Wales still working through my issues with CAMHS and this year of my life would turn out to be where (even though I didn't think it possible) things got SO much worse. On the morning of May 1st 2009 I was told my middle sister had committed suicide and from that moment I found my self seeing her everywhere, repeating the moment over in my mind, the funeral, the inquest, the what if's, the whys? I would have constant flashbacks of each moment of her death. I even ended up having flashbacks of me being the person who found her (which I wasn't). I couldn't believe she was gone, because to me she wasn't. I saw her all the time, I could hear her, but it was my mind playing tricks on me to try and process her death.
I have suffered PTSD from two different kinds of traumatic incidents, and it shows that anyone can suffer from this. I never imagined I would get through either of those events, but slowly and surely I have started to rebuild my life. I am still going through trauma therapy and still have my moments, but I have such good friends and a wonderful mother who can help me. I think it's so important to make sure people are given the best support possible because I know all too well how PTSD can spiral out of control into severe depression and suicidal ideation, so remember to reach out! I am now nearly 22 and expecting my first baby and slowly working towards my goals. Things can and do improve, it's never easy, but as cheesy as this is, there IS light at the end of the tunnel.
Kelly Boylin
Back to Blog