Back to Blog
Positive Voices at the 'State of Stigma' Conference
written by Cathy Elder 16/02/2017
The first ever 'State of Stigma Conference' in Wales left me on cloud nine.  It was a great celebration of how things are changing - slowly - but they ARE changing!  By working together, making our voices heard, the stigma associated with mental illness is being stamped out and replaced with positive messages.
As a Regional Champion for Time to Change Wales I was lucky enough to attend this ground-breaking conference in the magnificent Pierhead Building.  It was a bitterly cold day with a freezing wind skitting across the grey water of Cardiff Bay, folk with hats on and heads down scurrying to get into the warm.
The conference was hosted by Gofal, Hafal and MIND Cymru, who had invited inspiring speakers from across Britain.  Rebecca Evans, Minister for Social Services and Public Health, officially opened proceeding, giving it the Assembly's seal of approval.  Then Bethan Jenkins, the Assembly Member who sponsored the event, spoke movingly about her own experiences with mental illness, setting the tone for the day - listening to and learning from those with lived experience.  More than that, she showed that when we are not held back by stigma, we can excel in whatever work we choose to do - even achieving the dizzying heights of politics.
Sara Moseley, Chair of the Wales Alliance for Mental Health and Director of MIND Cymru (just two of her many impressive roles) reported on the incredible impact our campaign has had in a few short years, wowing us with statistics about how many people across Wales have been reached and the significant number of influential organisations and employers who have signed the TTCW Pledge.  
But it hasn't been plain sailing and there is much still to do.  Alun Thomas from Hafal and Ewan Hilton from Gofal explained how the campaign is moving into Phase III, building on what works and identifying groups and communities who could be supported better.
To illustrate how attitudes are being improved, both within the health service and in community contexts, Rhiannon Beaumont-Wood of Public Health Wales showed some entertaining cartoons.  What would happen if we approached physical health in the same way some experience mental health care?  'Change your frame of mind and you'll soon feel better' a nurse says to someone with a catastrophic hand injury!
We were then treated to up-beat presentations from Jo Loughran from TTCW England and Billy Watson representing Scotland's See Me.  They shared the knowledge and experience they have gained from their longer-established campaigns.  Claire Henderson a senior clinical psychiatrist is heading up the evaluation of the TTCW programme until 2021 and showed how the evidence being gathered is helping to ensure that effective interventions to reduce stigma and discrimination are adopted at every level.
Phew.  It was time for a quick cuppa and to visit all the information stalls.  This was followed by the break-out focus groups covering four topics: diversity, children & young people, gender differences and the workplace.  Lively discussion in each group was captured so that it can help inform decision making.  That's what I love about TTCW – it's real, it's practical, it's pro-active, it's open to discussion and new ideas.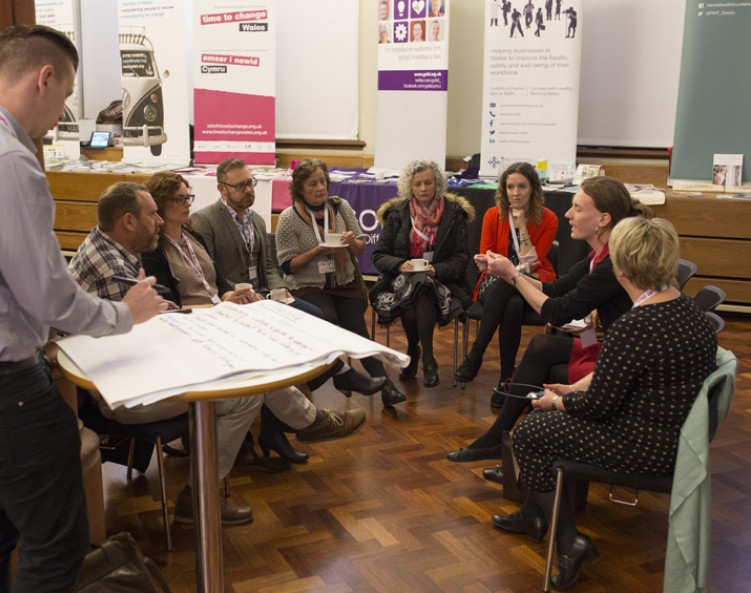 The focus groups brought up lots of interesting ideas and discussions - here I am taking part in the Diversity group
To bring the day to a conclusion we were reminded how powerful our personal stories are.  Elin Jones, Chair of Hafal invited three TTCW Champions to the podium.  Andy, Sue and Anya talked about their trials and triumphs with honesty and integrity, at times funny, at times poignant.  Finally, Carina Giannuzzi, Mental Health Liaison Officer for Dyfed Powys Police talked about how, as an employer they are now more responsive to the health of their officers and are better equipping them to engage sensitively with the vulnerable people they encounter in their daily jobs.
From policy makers to TTCW Champions - who represent all the campaign's participants from across Wales - the conference was a great melting pot of people who are actively bringing about change, making it normal and natural to talk about mental health.
Back to Blog