Back to Blog
For the second year running Time to Change Wales has worked in partnership with our sister campaign Time to Change England to get our two nations talking about mental health – this year Time To Talk Day 2016 took place on Thursday 4th February 2016.    
This Time to Talk day coincided with the release of "Time to Change: the State of Stigma in 2016" a UK wide survey of over 7000 respondents with experience of mental health problems. With the Wales specific responses, the results once again demonstrated the need to get Wales talking including 88% of respondents in Wales stating that they had faced stigma and discrimination as result of their mental health problems. With 71% saying that it made them feel judged, 69% isolated and 60% worthless. 
Time to Talk Day was all about encouraging the nation to take five minutes to talk about mental health at home, in work, with friends and family. This is in order to break down the barriers and silence that often accompanies mental health and showing that talking about this subject is not difficult.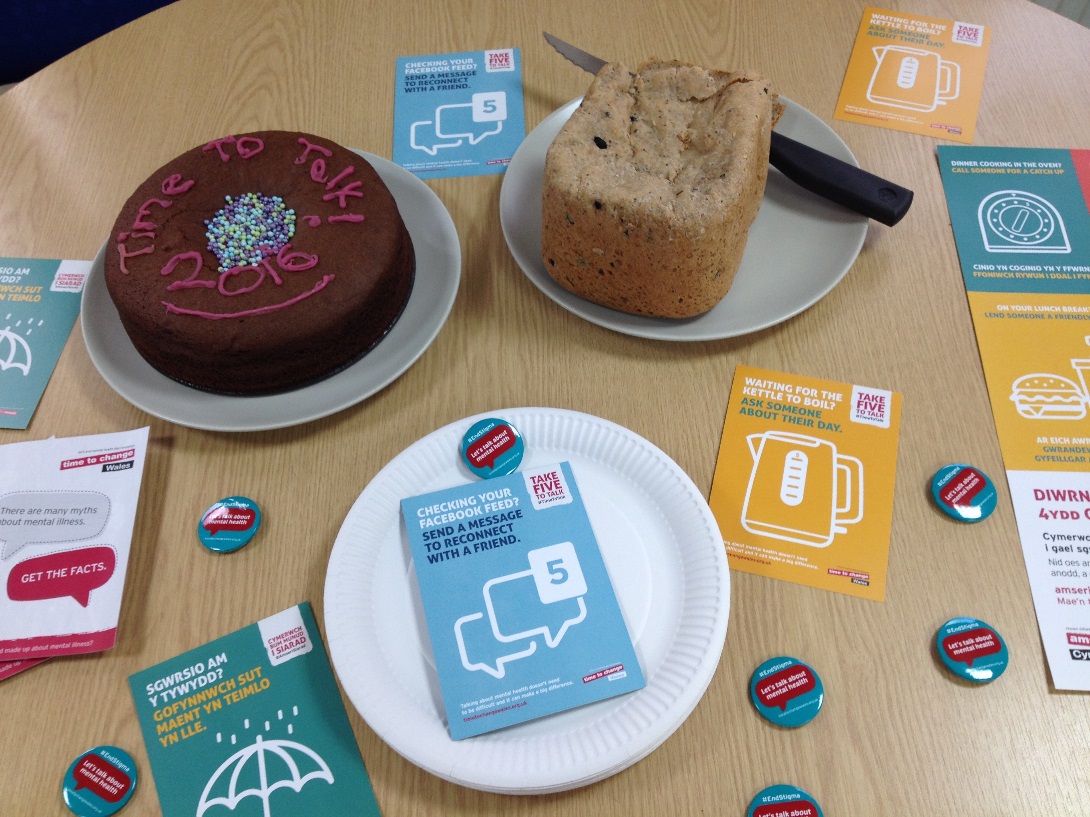 Time to Talk Day resources proved successful at pledged organisations on the day.
So how did we do?
In the run up to Time to Talk Day 2016 we received over 70 requests for resources packs that where sent out to workplaces, schools, other third sector partners and individuals. These packs contained our myths & facts booklets, talking tips cards, conversation starters, pens, balloons and badges – actually everything that you would need to run your own session.  All these resources could also be downloaded from our website - and still can be, so it's never too late to start your own conversations – you can download at materials.
In the run up to Time to Talk Day we tweeted about our plans and how you can get involved all using the hashtag #TimeToTalk, in the 30 day run up period to 4th February 2016 our tweets had 146,500 impressions and the 19 tweets on the day engaged with 18,000 people across Wales.
While we know that it's vital that we lead and start conversations it's far more important to us that  everyone joins in the conversation around mental health, thus it was great to see that almost 200 individuals on Twitter joined in the conversation on Time to Talk Day this included Assembly Members, organisations that have pledged to work in partnership with us, new supporters and existing partners.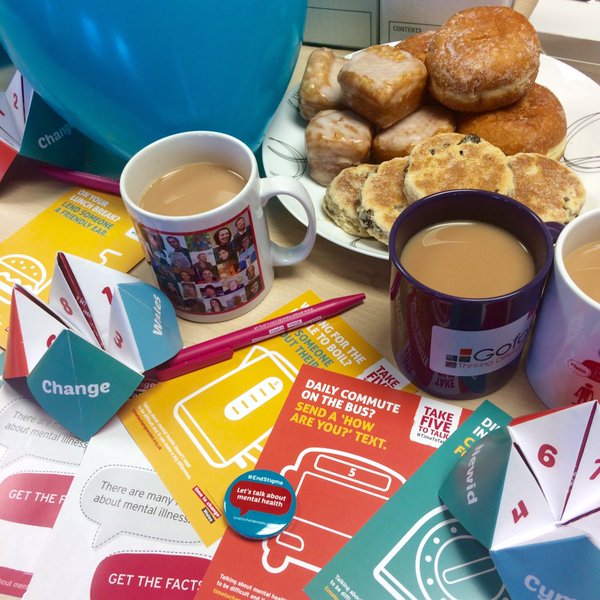 Partner organisations were where some of many activities and conversations took place across Wales
Its also been great to see some really positive responses from those that requested the TTCW resource boxes, below is just a highlight of activity that took place on the 4th February. 
Gwent Police: as well as updates throughput the day on staff Intranet, the Gwent Mental Health Support Group planned out a number of "open letters" that would go out across the Force describing their own experiences. This resulted in two named and one anonymous blog that were incredibly personal that were published on staff intranet to amazing feedback that in itself started many conversations and increased openness.
Torfaen Voluntary Alliance:  As well as holding staff "coffee and chat" sessions their volunteer centre was opened to the public with it themed around Time to talk Day and resources were also shared with their Dementia support group. Feedback from staff and general public was really good.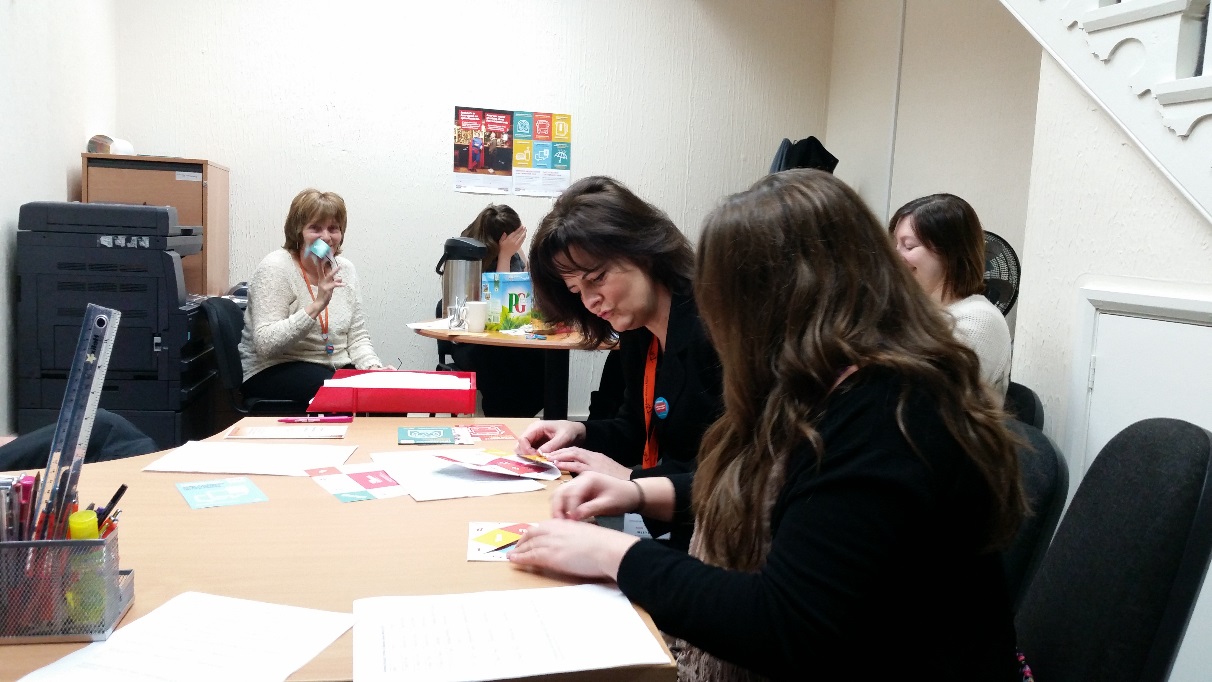 Staff at Torfaen Voluntary Alliance get into the swing of things on Time to Talk Day!
Blackhorse Banking Group: the Cardiff headquarters held a number of stigma busting talks headed up by Peter a staff member who spoke about his own journey and how work was a very positive focus for him in his recovery. These talks went down so well that plans are now being put into place to roll it out across other UK sites as well as a dedicated series of events under mental Health awareness week in May 2016.  
Peter's Line Manager said: "Pete has had a fundamental impact on colleagues in the business through giving an open and honest insight in to his experience with depression. It was amazing to see the room absolutely bursting with colleagues from different areas and at different levels. Pete has done a very brave thing in sharing his own personal experience and it is really important to us as an employer that we understand and recognise this illness, and support colleagues in the workplace. Pete seems to have opened a door to this discussion and I am really pleased at how well this has been received."
Remploy: There offices across South Wales took part in activity around Time to Talk Day and it sat well with their own priorities around mental health and disability awareness. Helen O`Gorman the Operations Manager for Wales said "the TTCW materials that were provided to us to start raising awareness were great and they really helped to spark conversations which is exactly what they were intended for".    
Having a mental health problem is hard enough, but sometimes the isolation and stigma can make it even worse.  But we can all help to break the silence. Talking about mental health doesn't need to be difficult and can make a big difference. 4th February was a great peak in this activity but actually we can all continue this ground swell of momentum every day across workplaces, with family, friends and community within Wales.
Back to Blog