Back to Blog
Children's Mental Health Week 2018
written by Jules Twells 05/02/2018
From 5-11th February 2018 we're celebrating Children's Mental Health Week, a whole week dedicated to improving awareness around children and young people's mental wellbeing.
This year's theme is #BeingOurselves, advice we wholeheartedly support here at Time to Change Wales and something we've been promoting through our own campaigns recently.  
In November 2017 we launched our first young people's mental health campaign, #WeCanWeWill, to encourage future generations to band together as one movement and change the way people think and act about mental health. Young people from all across Wales have already joined to show others that it's ok to talk openly about mental health – we'd love you to help make a difference by joining the movement too.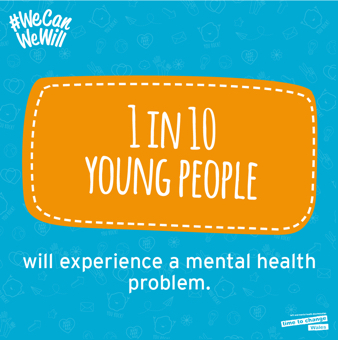 The #WeCanWeWill section of our website has a raft of information and useful tips like myths and facts to help provide support for those who want to find out more about mental health. We've also developed resources to help start those all-important conversations about how we're feeling, including chatterboxes and talking tips cards.
If you're aged 18-30 years old and have your own experience of mental health problems you might like to volunteer to be a Time to Change Wales Young Champion. With support from us, our champions help educate others by sharing their stories, writing blogs, making vlogs, campaigning on our behalf, attending events and conferences and delivering workshops to schools, colleges and other youth-focused organisations – and much more! They're the driving force of the campaign and help make a massive difference to people's lives every day.  
We are also currently delivering a pilot programme to reach 5,000 young people across nine secondary schools in Wales. As part of this, our Young Champions have been visiting the schools to talk about mental health with 14-18 year olds and help to break down stigma. Schools and youth-focused organisations can also sign up for our educational resources – lesson plans, assemblies and quick presentations about mental health, available in English and Welsh, and tools to use in your own workshops with young people.
So far the #WeCanWeWill campaign has exceeded our expectations – across social media we've already reached nearly three times the number of young people we were aiming for, and the number of Young Champions joining us is growing every week. But there's still more work for us to do before the stigma and discrimination around mental health is a thing of the past.
1 in 10 young people will experience a mental health problem. Let's make sure young people have the power to change attitudes towards mental health and to celebrate who they are. Together, #WeCanWeWill make a difference. 
Back to Blog