Back to Blog
My name is Julia and I'm both a Time to Change Wales Champion and a member of Poets on the Hill. My poem, Black Dog Fragile, deals with the journey through episodes of depression labelled by different diagnoses. I'd encourage anyone to write down and if at all possible share their experiences of mental health issues. Poetry is a great force for sharing and expressing feelings and experiences.
Poets on the Hill has a facebook group and we would encourage people to join it if they are interested in listening to, reading or writing poetry also we have a website: http://poetsonthehill.wixsite.com/communitypoets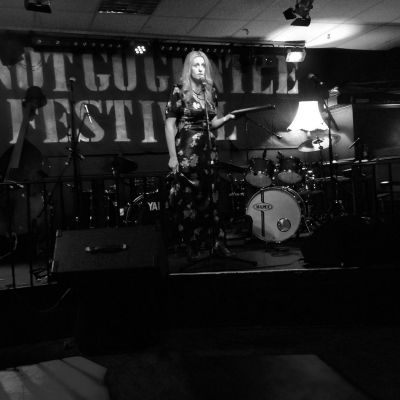 It was meant to be mind expansion,
Dutch courage
to keep her dancing,
keep her thin.
Everyone has their poison
and red wine didn't touch her.
Ironically she was naturally,
gregarious.
 But when switched on, tuned up
ordinary was traded for revelry.
Smiling turned to gurning.
Falsely regulating.
Receptors damaged.
Moods carnaged.
Unable to perk up.
Speeds were numb….
or rushing. Pupils wide,
"on the level" denied
up or down, never middle ground.
Extreme living.
 And when the class A comedown
led to sanity drop out,
the party was replaced with psychosis.
Black-dog-fragile.
Eyes showed suspicion and her smile
was crazy talking.
So Call the Crisis team.
Deemed dangerous. Police plea
to answer her emergency
with legitimate necessary  force.
The blues and twos
don protective gloves  of blue.
A lack of empathy rang her doorbell.
There was no doctor in the house.
Voices encouraged her lash out.
She fought the law,
and the law won.
Read the rights.
"You have no right to refuse any treatment".
Broken patient in custody.
Cuff held, detained in pain,
her black dog whispers.
"Remove your laces"
the State power barked.
"It's for your own safety"
Really?
Behind bars
she tasted "accidentally spilt" iron.
Transferred calm at their injection,
the injection she didn't want.
Later she was sure they had injected her
not with meds but with an infection.
She didn't comprehend but she was held
by them, in a cell
for people that do understand.
Understand they've done wrong
and warrant incarceration.
And all this above board in 2016.
Response of a caring NHS regime
from cradle to grave via Swansea Nick bedlam
Better now, Victorian hospital bound
months under section 2 then 3,
ignoring her, as No 1
and her moments of clarity.
Frightened and lonely
on an underfunded ward.
Seeing things we don't see,
hearing things they don't hear,
saying things thought unlikely
at review panel.
Yet when it suited them, not her
freeing her like a swallow
 into the cold winters sky
unable to cope at
short notice, in harsh light.
And she flew over the cuckoo's nest
promised a care package and regular contact.
Notes made about needs to meet,
treatment order in the Community,
receiving sweet F.A.
Eventually
Cognitive Behavioural Therapy.
Another turn at tweaking prescription drugs
that couldn't hold her self-harm thoughts.
Days in weeks in months
Delusional thinking,
Blood testing,
Busy doing nothing,
System cycling,
Pen pusher plan means little.
Weary mates stapled stigma to her,
from their choice filled, no fear,
yet to personally experience, fast lives.
Amused by her facebook statements.
Inappropriately adding to her pile,
friends assessments.
Suspended animation, awaiting stable
in a "No Room At The Inn!" community
reflected in Cinderella facilities.
With no fairy tale ending.
Pensioned parents permanently
on stand-by in their abandoned retirement.
Exhausted carers intermittently angry
8 years of it, wine soaked and weary.
Over-riding umbilical division.
Arguing with twisted thinking
& warped health provision.
Daily support from those who are sharing
her blood thicker than watery expert caring.
Trying their very best.
Tough to cope with her mental illness.
The damage done
handling her darkest existence.
Knowing now what will come next.
Removing her. Institutional process.
Smell of no-choice-food and sanitiser.
Her pain visible if you're standing beside her
Mental Health Act, with its false smile,
she begs and whimpers,
black-dog–fragile.

Back to Blog