Yn ôl i'r Blog
From schizophrenia to helping others and ending stigma
ysgrifennwyd gan Grace 19/04/2013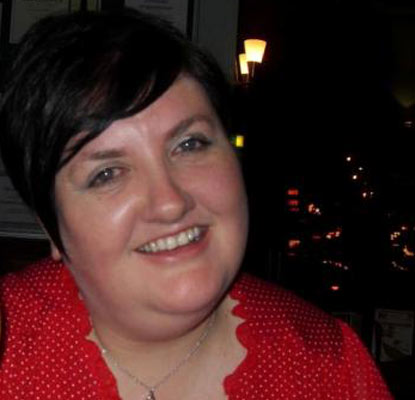 My main goal now is to fight deprivation and the stigma of mental ill health throughout Wales.
Six years ago I was diagnosed with Schizophrenia caused by trauma. I pushed everyone away, walked out of my job as a Purchasing Supervisor, because I felt like I was being bullied and victimised, so I hid myself away from the outside world.
Before I was diagnosed I thought the whole street was talking about me, they knew everything about me and would not leave me alone, I felt like I could snap at any moment, bGraceut I didn't.
I was hallucinating and suffered with delusions. I could see people I worked with plus my grandparents, who are no longer with us. I also saw my doctor who had become so close to me that I call him step dad. I was so withdrawn, my mother had to try and help me just survive day to day. I kept my illness a secret until I was sent to a psychiatrist and my grandparents were taking notes on the doctor, making sure he was good enough for their granddaughter.
My grandparents and the doctor came everywhere with me and were very strict, going over everything I had ever done from an early age, I felt like they had turned every stone and there were no more secrets or hiding because they knew everything, they would even ground me and send me to bed when I wanted to go out, due to my diagnoses. However, I thought I would follow my dreams and applied for a PGCE course at Aberdare College.
This changed my life, I was still withdrawn but I started teaching people how to use computers, on a part time basis. I then tried working for a social enterprise, teaching their 'Future Jobs Growth' staff. This was very challenging. We decided to set up our own group 'Communities in Partnership Specialists'.
I am currently on Employment and Support Allowance. I thought that being on the sick would be temporary; two years later I am still on the sick, but volunteering as a director for CIPS. I put as much money as I could into paying for registration, petrol for the car etc., whilst we set up work clubs around Rhondda Cynon Taff. Our main aim is to help the people furthest from the job market who may be affected by substance abuse, mental ill health or be long term unemployed.
Before I was diagnosed I used alcohol to self medicate, blocking the trauma, but it only made things worse. Now the pain is going away and I feel like I have finally found the pot of gold at the end of the rainbow. It has been so hard, going two years without any money, yet investing in the group. I now feel I am finally giving something back to the community, but it has been like a roller coaster ride. My main goal now is to fight deprivation and the stigma of mental ill health throughout Wales.
Grace
Grace first shared her story at the Time to Change Wales Champions Day.
Yn ôl i'r Blog